Terrace Door
Designed for Areas with High Stress, Heavy Air and Water Infiltration with Twelve (12) Locking Points.
Standards
Decorative beveled glazing bead for a contemporary streamline design.
Optional forth hinge for added support on over-sized doors.
All frames and door sashes have a thermal barrier
which eliminates transfer of outside cold to the door interior.
Heavy-duty hinges, fully adjustable for tighter seals.
Multi-lock hardware available for added security.
Hardware available in standard color, White, Bronze and Silver paint. (brass plate handle)
Spring latch to position locking every time.
1" threshold for a lower profile which will eliminate tripping hazards when entering or exiting from door.
Glazing ¼" thru 1" glazing available in tempered glass with optional low "E".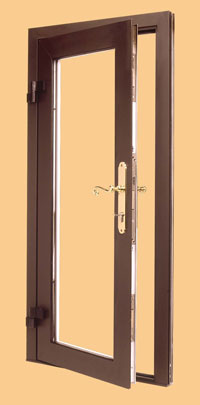 Model
Number
Test Size
Rating
Air
Infiltration
Water
Uniform
TRS-6207 (opens in)
61×97
OA-HGO-HC65
25.75 PSF
15.25 PSF
97.5 PSF
TRS-7008 (opens out)
ADTHC100
12.0 PSF
60.0 PSF
150.0 PSF
TRS-8000 (opens in/ out)
41×91
SWD-HC75
25.0 PSF
20.0 PSF
100.0 PSF