Double Hung Windows
Two Color Double-Hung Architectural Ratings DH-AW55* and DH-AW50** An American-classic operating window with important advancements by Thermo-Roll.
Thermo Roll's patented two-part joinery system* for double-hung* windows allows for every conceivable combination of exterior and interior aluminum extrusions of paint colors. The windows can be fabricated with anodized aluminum exteriors or interiors or baked on enamel paint or any combination of both.
lets you choose any combination of
DESIGNER COLORS
for window interiors and exteriors.
Design Flexibility
Optional Concealed Tilt Latch, aesthetically appealing (no eye sore) additional safety for children.
Long-lasting stainless-steel pivot bar support for extra strength.
Choice of balances for easy lift, including Ultra Lift, spiral, and block-and-tackle balances.
External and internal grids for Historic Landmark Application.
Panning and flange available for ease of installation.
Tubular sash design for extra strength.
Heavy-duty extruded meeting rail for ease of operation and extra strength
Choice of Marine or Structural Glazing-glazing, so the glass unit will never be out of square.
Choice of three different types of glazing (bead) molding for the look of your choice.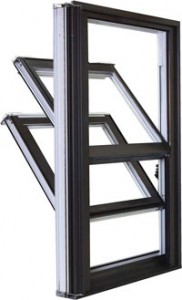 Thermo Roll's Design Flexibility Engineering allows for the Windows to be Fabricated With the Mosaic or Universal frame for Longevity & Lower Costs
* Structural Glazed
** Marine Glazed
Model
Number
Test Size
Rating
Air
Infiltration
Water
Uniform
TRS-12201
60X99
H-AW55
6.2 PSF
16.0 PSF
82.5 PSF
TRS-12201
60X99
H-AW50
6.2 PSF
16.0 PSF
75.0 PSF