Historic Landmark Casement
Full-view heavy commercial aluminum windows with top air and water infiltration performance.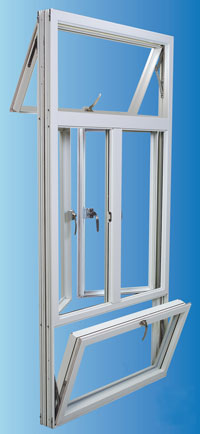 New York City Approved Casement Window with Hopper Provides 31% More Ventilation
Introducing a thermally-improved heavy commercial aluminum out-swing casement window, made in the classic narrow-sightline image of historic steel casement windows.
The Thermo-Roll Landmark Casement is an ideal choice for historic residential co-ops – and even warehouse condo conversions, protected by local and national historic commission standards.
Aesthetic Values
Elegant sightlines that emulate original steel casement windows.
Architectural interest: beveled exterior face replicates historic steel window.
Compatible with historic panning and classic brick mould
Combine fixed, awning and casement vents in the combination you choose.
Choose different colors, inside and out, thanks to patented joinery system.
Muntins: choice of internal or external applied.
Manufactured to meet the most demanding weather conditions.Sure seal against leaks with double compression weather stripping.

AMMA rated C-HC50, AW 40 TRS 12
Air @ 50 MP .10 (.08) CFMWater penetration: none at a test pressure of 8.0 PSF
Structural load test: passed at 112.5 PSF
Uniform deflection: no more that L/175 when tested at static air pressure difference of 50 PSF
Forced entry resistance = Grade 10
Outstanding protection against condensation on glass, thanks to two 3/16" glass lites separated by desiccant-filled, tubular aluminum spacer and laminated lites for sound deadening
Outstanding protection against seal failure: 10-year warranty on glass
No storm windows needed, thanks to Insulated Glass (IG) System
Structurally-glazed glass lites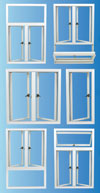 Thermo Roll's Design Flexibility Engineering allows for the Windows to be Fabricated With the Mosaic or Universal Frame for Longevity & Lower Costs
Model
Number
Test Size
Rating
Air
Infiltration
Water
Uniform
TRS-2002
36×60
C-AW40
6.24 PSF
8 PSF
60 PSF
TRS-2003
32×60
C-C50
6.24 PSF
8 PSF
60 PSF