Tilt & Turn Hopper Window
Dual-Operating Window Features Proprietary Thermo-Roll Features.
Tilt and Turn Hopper (and tilt before turn) 6200 series windows are the pinnacle of fenestration technology for residential, commercial and institutional buildings. Unlike most other styles, Tilt & Turn Hopper Aluminum windows offer dual-action convenience. They tilt-in at the top, and swing-in, along one side. By allowing indirect fresh air while tilting-in, they eliminate drafts and increase comfort, and at the same time reduce safety and security issues associated with other types of open windows. In the swing-in mode, tilt and turn windows create a full opening for easy cleaning or emergency egress. Tilt and turn windows accommodate insect screens easily and provide sweeping unobstructed sightlines.
Features & Benefits
One handle for all tilting, turning and closing operations.
2 7/8 inch sightline on all models.
Tilt before turn operation offers increased safety.
All models are compression sealed for maximum efficiency and soundproofing.
Dry glazing, with snap-on interior glazing.
Designed for 1/4 inch glass with 1 I.U. for additional soundproofing.
Patented Child-Guard* NY City Approved Safety Lock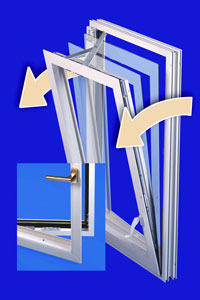 Thermo Roll's Design Flexibility Engineering allows for the 6200 series aluminum Windows to be Fabricated With the Mosaic or Universal Frame for Longevity & Lower Costs
Model
Number
Test Size
Rating
Air
Infiltration
Water
Uniform
TRS-6200
61×94
HC-65
25.75 PSF
15.25 PSF
97.5 PSF